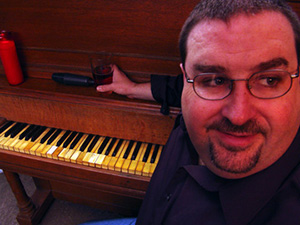 John "Papa" Gros (pronounced "grow") is a bedrock New Orleans artist, a keyboardist, singer and songwriter who draws on funk, rhythm & blues and Americana song craft, who also knows his way around the Mardi Gras music repertoire about as well as anyone. Like Allen Toussaint and Dr. John, Gros is a proud local who carries on the New Orleans music tradition, both honoring its past and shaping its future. 
After kicking off his career as an organist and pianist, for George Porter Jr.'s Runnin' Pardners, during the 1990s, Gros formed the funk group Papa Grows Funk in 2000. For 13 years, the band performed every Monday night at the Maple Leaf Bar, delivering greasy, groove-heavy Big Easy funk, while with releasing six critically-acclaimed albums and touring the world, carrying their brand of New Orleans' music to far-flung places.
Papa Grows Funk called it quits in 2013. Gros resumed is role as a top sideman for many Nola artists — including Better Than Ezra, Little Feat, Anders Osborne, The Metermen, The funky Meters, and The Neville Brothers. Finally, Gros began focusing once again on songwriting and his solo career — which began in 2004 with his album Day's End, (which was picked as The best Roots Rock Record of 2004) — by prepping a second solo record that focuses on the full range of his musical influences and abilities.  Thus River's on Fire was born in 2016.
River's on Fire finds John shifting his songwriting focus back to the instrument that started his lifelong musical journey, the piano.  The album reaches beyond Papa Grows Funk's groove-based sound and offers listeners a bit of everything — party songs, funk grooves, upbeat rockers and Americana singer/songwriter ballads.  Rock n Roll Hall of Fame, New Orleans legendary music creator and Gros' mentor, Allen Toussaint, describes John as "an instrument of New Orleans music at it's best."  "I was paying homage to Allen in every song, be it subtle hints or blatant highway robbery," admits Gros.  It's all coming together in the right place, at the right time.
"As a sideman, I've worn a lot of different musical hats," he says. "But as John "Papa" Gros," I am representing New Orleans culture and adding to legacy laid before me."